Component Prep Equipment
The HS-201U is an extremely low priced motor driven Axial Component Lead Former and Cutting Machine. This unit offers the very best balance of economy, quality, very compact and solid design to easily form and cut taped axial components.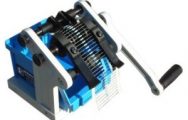 The model CUTBEND is a low cost, high quality Swiss built Resistor Cutting and Forming Machine. The CUTBEND can easily be adjusted and readjusted for different components and dimensions.
error: Content is protected !!