Second User Wire Stripping Machines
HOTweezer® Thermal Wire Strippers represents the state of the art in design and construction of thermal wire strippers.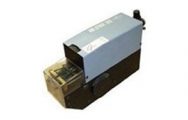 The Beri Am Strip 015 Pneumatic Wire Stripper is capable of processing wires up to 5mm O.D with a maximum strip length of 15mm.
The Carpenter Model 71A Pneumatic Wire Stripping Machine is capable of processing wires in the range of 28-12 AWG with a max strip length of 20mm.
error: Content is protected !!