S4 Evo Range
The S4 Evo Range of Machines are all manufactured in the UK by Series 4 Limited, all spare parts are usually held in stock.
The MD260 Evo Reel is a useful wire feeding machine for both loose and reel mounted cable. This Wire Dereeler offers Smooth acceleration and deceleration of the rotary mounting plate.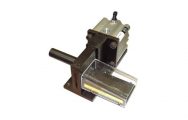 The PC25 Pneumatic Guillotine is capable of processing up to approx 25mm O.D Cable, Tubing and Conduit.
The Pull Winder model PW-10 is an air operated manual coil winder for toroids. The machine reduces winding times and operator fatigue. It is fitted with a automatic turns counter.
error: Content is protected !!