Lever/Trigger Start Electric Screwdrivers
We do also have some Electric Screwdrivers currently on special offer, please visit the Special Offers Section on the Main Drop Down Menu.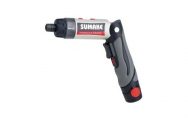 Lever Start Mini Cordless Electric Screwdriver. This Screwdriver has 2 Torque Settings in Low & High Speed modes of 2.7Nm & 4.0Nm.
Lever Start Direct Plug In Electric Screwdriver. Models available with Torque Ranging between 0.5Nm and 4.41Nm.
error: Content is protected !!