Discontinued Products
Please Note: The products listed below are no longer available to purchase (we may still have second user or refurbished units available), each data sheet is for reference purposes only. Spare Parts and Consumables may still be available, please contact us.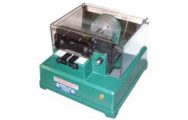 The Model 48 Pneumatic Ribbon Cable Stripper is capable of processing Ribbon Cables up to 76mm wide.
error: Content is protected !!