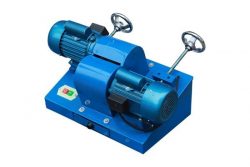 New Product Listed – KS-E507 Heavy Duty Enamel Wire Stripping Machine
Introducing the brand new KS-E507 Heavy Duty Enamel Wire Stripper which is designed to strip the enamel from Round, Square, Flat and Oval Shaped Enamel Coated Wires up to 10mm OD (80mm wide). This Enamel Wire Stripper is a twin motor drive unit which enables high output due to the capability of this machine being able to process a wide range of Enamel Coated Wires. The abrasive method of stripping wire utilizes either wire or fibreglass brushes to abrade the insulation off the conductor.
error: Content is protected !!