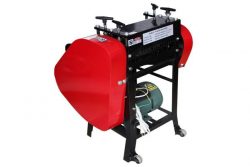 New Product Listed – KS-S305 Scrap Wire Recycling Machine
Introducing the Brand New KS-S305 Scrap Copper Wire Stripping Machine. This copper wire stripping machine has multiple stripping channels/guides for various wire sizes ranging from 1.5mm to 40mm O.D. This simple copper stripping machine is very easy to use by inserting the wire into the suitable channel/guide, the upper and lower blades will then slit the outer insulation which will then reveal the inner copper wires to be removed.
error: Content is protected !!