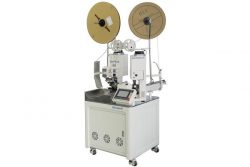 Coming Soon – KS-T555 Automatic Cut, Strip & Crimping Machine
Coming Soon – The brand new KS-T555 Automatic Cutting, Stripping and Crimping Machine. This new machine is capable of crimping on both ends of the wire. An optional conveyor belt can also be purchased and is recommended to be used when the cutting lengths are over 800mm. More information will be available soon.
error: Content is protected !!