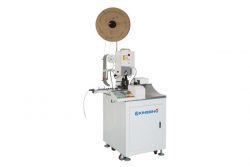 New Product Video – KS-T101 Automatic One Sided Cut, Strip & Crimp Machine
The KS-T101 One Sided Cut, Strip and Crimp Machine will process wires 0.05-1.00mm² (18-30 AWG).  The crimping die set/applicator for this machine is manufactured to suit the customers' crimps/terminals. The KS-T101 Cut, Strip and Crimping Machine will process 18-30 AWG Wire with a maximum cutting length of 3000mm (if you are processing lengths over 800mm, it is recommended by the manufacturer to purchase this machine with a conveyor belt installed) and will process up to 5000pcs per hour.
error: Content is protected !!