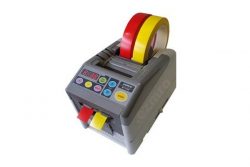 RT7700 Automatic Tape Dispenser
The RT-7700 Electric Tape Dispenser can cut a variety of tapes in a sequence (example A: 50mm, B: 10mm etc up to 6 length settings between 5mm and 999mm). This Electronic Tape Dispenser will accept tape widths of 6~60mm and a maximum outer diameter tape roll of 300mm. The RT7700 Electric Tape Dispenser can also dispense 2 reels of tape at the same time using the tape roll separator.
error: Content is protected !!