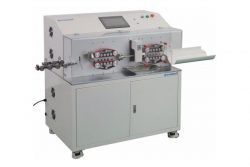 KS-W104 Advanced Automatic Wire Cut & Strip Machine
The New KS-W104 Advanced Automatic Cut & Strip Machine is capable of processing up to approx 23mm O.D. This new Cut & Strip Machine adopts a PLC Control System and Colour Touch Screen to provide a simple and enjoyable operation. The KS-W104 utilizes a belt feeding system which is designed to avoid marking on the cables.
error: Content is protected !!