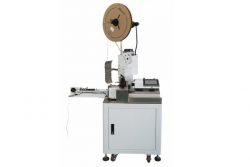 KS-T502 Automatic Cutting, Stripping & Crimping Machine
The KS-T502 Automatic Cut, Strip & Crimp Machine will process wires 0.08-2.5mm² (13-28 AWG). This new machine has an integrated function of cutting and stripping the wires at both end with one side of the wire being twisted and crimper, this machine offers a wide range of applications. The Crimp Applicator is manufactured to suit the customers' crimp terminals (we will require photos/datasheets for each crimp terminal). This Cut, Strip & Crimp Machine will cut and strip both ends of the wire and also crimp on the trailing end. This machine is capable of processing up to 5000pcs per hour. The Cutting & Stripping Length, along with the Crimping Force are controlled by a stable system and all parameters are saved in the LCD Operating Screen.
error: Content is protected !!