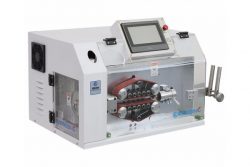 KS-C511 Automatic Corrugated Tube Cutting Machine
The KS-C511 Automatic Tube Cutter is capable of processing between 4mm and 28mm O.D Corrugated/Convoluted Tubing and Cables/Wires. This automatic tube cutting machine is suitable for various kinds of plastic, corrugated, PVC tubing and Cables. The model KS-C511 Tube Cutter is a stand alone cutting machine which can process up to 28mm diameter. The Rotary Cutting Blades is designed to cut Corrugated Tubing and Cables with a smooth edge, the belt driven feed system prevents damage to the material during the process.
error: Content is protected !!