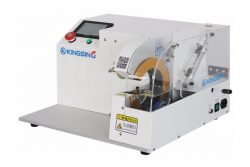 KS-A204 Automatic Wire Harness Tape Wrapping Machine
The KS-A204 Automatic Tape Wrapping Machine accepts tape up to 20mm wide and wire diameters of up to 40mm. This Tape Wrapping Machine is capable of working in 3 different modes; Full Wrapping, Point Wrapping and Multi-Segment Wrapping modes. This tape wrapping machine has 5 speed settings with 1 being the minimum speed and 5 being the maximum.
error: Content is protected !!